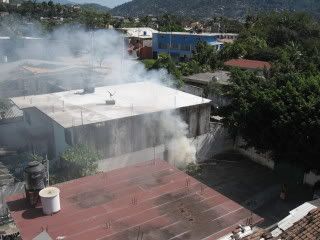 I think I've mentioned before that our neighbors like to burn things. Since the rainy season ended last month, there seems to be an unspoken agreement that now is the time to burn anything you no longer want. Leaves, wood, garbage... they don't discriminate.
Quite a few times I've had to close the windows to keep the smoke out, but because of the way our condo is built, it still gets in. And usually by the time I realize it's bad enough to shut them, it's too late. Ibis has come home many nights and wondered why it smells like a campfire inside.
Yesterday, once again, I noticed smoke inside the living room, but when I went to the deck to look, there was nothing there. Then I peeked around the corner and saw huge clouds of white smoke billowing over the hillside. Fire trucks screamed in the distance and I realized this wasn't someone burning leaves. Or if it was, it got out of hand. Again, closing the windows didn't do much good, but fortunately the smoke passed within twenty minutes.
I had just sat back down when I smelled smoke again. I checked from the balcony and this time it was my neighbor (dirty b***ard!). I'm tempted to go talk to these people and beg them to stop, but I don't think it'll do much good. All I can do is pray for a shift in the wind.