We had a nice day yesterday visiting Ibis' family in Lazaro Cardenas. It's about an hour and twenty minutes north of here but because we weren't sure how the car would handle, we drove more slowly. Most of his siblings who live in town came over for a large dinner around 2:30, then we all at around chatting. They were impressed by how much my Spanish has improved and I had a much easier time understanding everyone than I have in the past.
One brother had a baby last fall and the last time we saw her she wasn't even crawling. Now, at fourteen months, she's running and talking! Our nephew that we've spent the most time with was at the same stage she is, but an entire year later. They were both a lot of fun, and of course we took pictures.
Ibis tried to get a good picture with both kids, but every time our nephew put his hand around our niece's throat, she started screaming. He thought it was funny so he kept doing it. There's a whole series, but this is the cutest.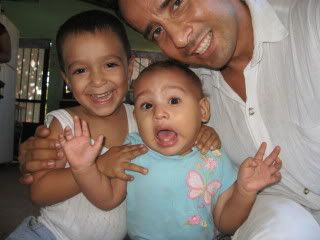 Here's me with our nephew. This is the same house where we lived for the first three months we were in Mexico. They've changed a few things around but for the most part, this is what it looked like.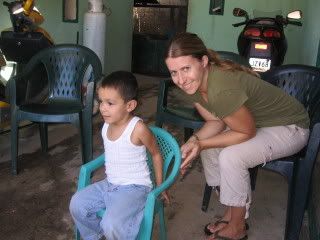 Later in the afternoon we headed to a local park where the family plays volleyball Sunday evenings. There was a big Christmas party going on for the kids, but since the family are Jehova's Witnesses, we stuck to the playing courts. Sadly, I forgot to take pictures there.
One brother told us that they passed a horrible accident on the main road (we took a different way and didn't see it) but we had to go back that way when we left. Traffic was completely stopped and the family wanted a closer look.
The car that caused it: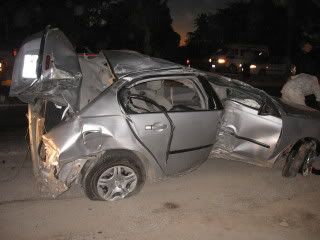 The tree it took out in the median:
The bus it hit on the opposite side of the road:
I have never seen a more gruesome site. There was blood everywhere on the road, on the bus, and on debris from the car. By the time we arrived the ambulances had already taken the people to the hospital (which is on the same road about half a mile away) so we thankfully only saw the wreckage. As we were leaving we saw something on the side of the road that looked like a stomach, but I insisted we didn't take a picture of that.
Unfortunately, this type of accident is pretty common here. The car had to be going very fast to cause that kind of damage, and it's a busy street. We heard the driver was drunk and I don't know how many people died. We were very careful coming home and didn't see any more accidents, but scenes like that stay with you.