Janna
has awarded me with the
Real Blogs, Real People
award.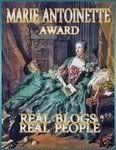 The award is given to bloggers who write about real life, which has left me wondering what
other
people right about, but hey, I'll take it!
Recipients are supposed to pass the award on to seven others, and here are my choices:
1-
Spyscribbler
She has a way of talking about writing that really makes me think and consider things in a way I hadn't before. She's also very funny, even though she doesn't think she is.
2 -
Erica Orloff
Erica has a gift for tying everyday stories into lessons about writing. I love hearing about her family and her life in general, then watching as she weaves her anecdotes into writing theory.
3 -
One Word, One Rung, One Day
I think Janna also nominated Travis, but I love his blog. He has a no holds barred way of approaching life and his storytelling reflects that. It's nice to hear from someone who doesn't try to pretty things up. (not saying the others do, but you know what I mean...)
4 -
Shrink Rap
Robin cracks me up on a daily basis. She's thrown her family at our mercy and amuses readers with tales of her two sons, plus the occasional story of moronic people that stumble through her life. She also leaves hilarious comments on other people's blogs.
5 -
Amy Nathan
Amy focuses most of her posts on writing, but they always tie in to real life. Her blog is like a cozy corner near the fire and I always enjoy reading what she has to say.
6 -
Nothing But Bonfires
Holly doesn't read my blog but hers is one of my favorites. She's an English writer living in San Francisco and her stories are absolutely hilarious. Her posts cover everything from Bad Decision Tuesday to highlights from her on-location assignments. Definitely check it out.
7 -
Something She Wrote
I know I'm not supposed to nominate her back, but she belongs on my list! I love everything Janna has to say and she's usually the first blog I read in the morning. So there!
Thanks again to Janna for nominating me - I really appreciate it!