I'm one of those people who always tries to look at the bright side of things. Sure, I worry as much as the next person, but I try not to let those concerns weigh me down. With everything that's happened to us in the past two years, I think I have reason to be a little down in the dumps now and then, but for the most part I'm happy.
I appreciate all of your feedback yesterday. While I didn't get many suggestions, it seems you're all fairly content with the balance I've struck. One comment that did stand out was Stephen's - he asked for more posts on our immigration struggle. I replied in the comments that I haven't talked about it because there isn't anything going on, but that's not altogether true.
In October, which marked six months from the second immigration meeting in Ciudad Juarez, we contacted the Michigan Senator whose office is "helping" us. Because of the separation of powers, a Senator cannot tell the Department of Homeland Security to do anything, but they can send a letter "urging" them to hurry up. My lawyer said that at the six month mark she likes to stir everyone up again, so that's what we did.
Someone from that office contacted the DHS and found out that they are falling behind and our 8-10 month wait has become a 10-12 month wait. The Consulate in Ciudad Juarez also moved offices in November, which slowed things down even more. We've scrambled to come up with more reasons for them to review our case sooner, and we're in the middle of one such things right now. I'd rather not get into the particulars here, but one of my blogging buddies has played a large role (thanks blogging buddy!).
So where does this leave us? Assuming they don't change their timetables again, we should have an answer regarding his visa sometime between March and May. We plan to be out of here as soon as we can after that, either to Chicago or Canada.
Now about that fruit.
I've moved a lot in my life (14 cities so far, with several moves within each city - 6 just in Chicago) so I'm looking forward to our next transition. Sure, I could mope and whine about what a PITA it'll be, but I'm excited to start anew. The waiting is frustrating so we don't spend every day dwelling on it. We live our day-to-day lives and push it to the back burner.
Ibis has been on a juice kick and wants freshly squeezed orange juice every morning. I could grumble about it, but instead I add a couple extra orange to the pile and enjoy fresh juice with my breakfast. Not such a bad thing in my book.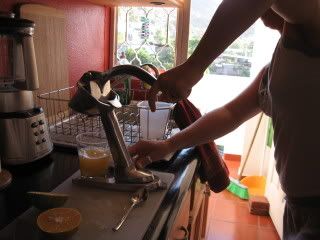 How about you. Anything going on that you've twisted around to a positive lately?