As with any major news event, it's easy to get burned out by the constant coverage, analysis, and "breaking news." We're only a few days into Swine Flu '09 and I'm already avoiding stories about it. I did check this morning to see the latest numbers, but until they have a more definitive answer as to what's going on, I don't need to spend all day scouring the internet. I did that Monday.
There are a couple conversations going on about it over at
Absolute Write
, and the majority of the attitudes seem to be hesitant caution, if that makes sense. No one seems to be panicking, but they are being smart. There are a few people who laugh at everyone for freaking out, joking that we're all going to die, etc., and then there are those who insist on tying this flu outbreak to illegal immigration.
Excuse me?
The comment that made my insides cringe was in response to someone announcing the first US death yesterday. He asked if the kid was there illegally, then nonchalantly said "Or are we still not allowed to care about our borders?"
I've also heard speculation that this is a plot against the US. People, not everything is about you! (General you, not you there on your sofa.) I found an article on the
Chicago Tribune
yesterday that mirrors my thoughts. Teresa Puente, who teaches journalism at Columbia College Chicago and is the editor and publisher of
Latina Voices
, says this:
But we have to debunk the hate. First of all, there's no evidence illegal immigrants are bringing the swine flu into the United States and other countries. It appears it may be carried by American and European tourists who have visited Mexico.

But the hysteria over the swine flu has to stop. Let's just put it in perspective with some simple facts.

There have been 159 deaths in Mexico. Only seven have been confirmed as swine flu and the rest are suspected, according to the World Health Organization and the Centers for Disease Control. But the population in Mexico is over 100 million.

I don't think that's cause enough for us to close the borders or boycott Mexico.

If it makes you feel better, go ahead and wash your hands more often and use hand sanitizer. But I don't think we all need to start wearing masks or pulling the kids out of school.

Let's not bash Mexico or view Mexicans or brown people in the United States with suspicion.
The article is really worth reading, in my opinion. I just can't believe that it's come to this. [insert disgusted look on my face behind the mask]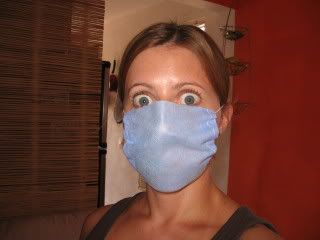 Do you have any cases near you? Have you taken any precautions? And to the anonymous poster from a couple days ago, I don't believe this counts as hysteria, I'm just reporting what's going on. If you care to leave your name next time we can have a conversation -- I don't reply to anonymous commenters.
PS -- On a lighter note, happy anniversary to my parents!