So many of my friends are on Facebook that I sometimes forget to mention things here on my blog that might be of interest. The latest? I... uh... found a spare moment yesterday - in the midst of constant web projects - to do a little "home renovation."
This is never a good sign: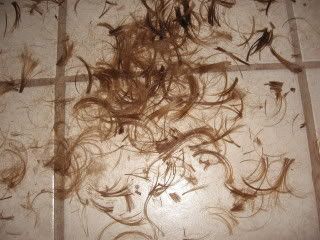 The end result:
I've been wanting to cut my hair for months and months, but held off because Ibis likes it long. Well, it's getting warmer and, frankly, I'm sick of having to sleep with my hair twisted up and tucked behind my head so it doesn't brush over my skin, making me hallucinate and think there are bugs crawling on me. I rarely wore it down because it's too hot, so at least now my back won't sweat when I'm trying to look "nice." :P
I want to cut a couple more inches but I'll get used to this before doing anything more drastic. I might even break down and visit a salon.