I sometimes go out on the balcony and watch the goings-on in the neighborhood. There's always a couple women doing laundry and little kids running around, plus some type of vehicle selling newspapers, it's megaphones blaring. We also have a lot of stray cats that consider the roofs their personal parade grounds.* On occasion they notice me standing high above them and stare at me in wonderment. Or concern - a lot of people throw things at strays around here. But I just watch.
Yesterday I noticed something interesting. In one shadow is a white cat, in the other a pigeon. Does anyone else think it's a little strange they're hanging out so close to each other?
I try to peek outside when the sun is setting to see the beautiful colors that light up the sky. It's always a little different and this time there was one huge pink cloud filling the sky. It reminded me of a ship coming into the bay (or leaving, since that's the direction it's facing).
Finally, there was one other thing I noticed on the balcony. A little teeny snowman!
Janna
sent him to me so I could enjoy a little snow of my own. Isn't he adorable?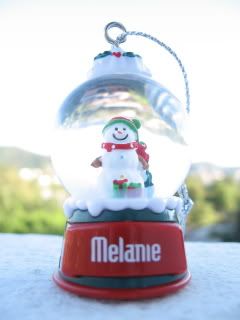 *I've seen a dog on the roof twice now but have yet to get a picture. I'll keep trying.