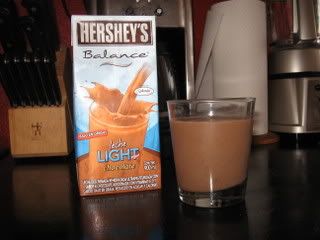 Doesn't this chocolate milk look healthy? The word Balance implies there are lots of vitamins and nutrients, and the word Light means it's low in fat and/or calories. You can drink chocolate milk and be healthy!
This milk is so thick and rich that it for a minute I thought I was drinking Hershey's syrup right out of the bottle. Yummmm. I figure it's better than eating regular-fat chocolate ice cream, but probably not by much.
Is there anything you buy that looks deceptively good for you, even though deep down you know it's not?