I got home and couldn't believe how BIG Owen got while I was gone! He's nearly doubled in size since we got him.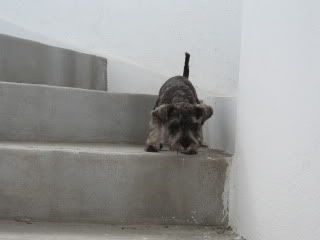 I knew Ibis would teach Owen something during my two-week trip, but I didn't expect him to learn how to go up and down the stairs. He's barely taller than the steps, but can navigate all four flights, sometimes faster than us. He cries a little when going down, but I'm sure that will end soon.
Gramma (my mom) bought Owen a couple toys and he LOVES THEM! He carries the soft ring with rattle things dangling from the end all over the house, and the soft plastic toy has saved my fingers countless scratches.
Finally, happy 21st birthday to my nephew!