I keep meaning to tell you all a little about my trip, but wouldn't you know it -- things are actually happening in my life that are worthy of talking about. Or at least I hope they are.
My first day in Chicago I met my very first online friend --
Amy Nathan
! She's already posted a
recap of our meeting
(along with pictures -- check it out because I didn't post the same ones she did) but I thought I'd give my take as well.
Prior to August 2007, I'd never talked to someone I didn't know online, so it's still a little strange to me that I have friends that I've never met in real life -- some of whom I'm closer with than the people I've shared oxygen with. When Amy found out I was coming to Chicago, she suggested we meet. After a lot of back and forth, we settled on meeting at the Bean.
Here's me waiting for her.
We'd seen each other's picture online so we knew who to look for, and we immediately headed off to lunch. I felt a little silly because I could not for the life of me figure out where to go, and I consider myself a Chicago girl! Amy suggested the food court at Macy's (formerly Marshall Fields) so we could sit for hours without anyone rushing us from the table. (We had sushi.)
We chatted like old friends about everything under the sun -- we even talked about writing! -- then had a bored bookstore manager take our picture in front of the books.
Afterwards, we stumbled upon a cupcake store. I've been craving baked goods for quite awhile now, so when I saw the baked goodness I knew I had to have one or twelve. I settled for this:
It's a chocolate cupcake with peanut butter flavored frosting. Divine! I stared at the monstrous goodness, trying to figure out how to eat it, when Amy gave me a great tip: you remove the top, then flip it over and stack them together like a sandwich. It's not pretty but it's oh so good…
After all the sushi and sugar, Amy had to catch the train home. As I walked her to the station, we passed a corner completely roped off with police tape. Apparently the police had just shot and killed an "aggressive panhandler" who put a knife to a passerby's throat. Scary! Of course, we had no clue any of this was going on RIGHT OUTSIDE FROM WHERE WE WERE EATING.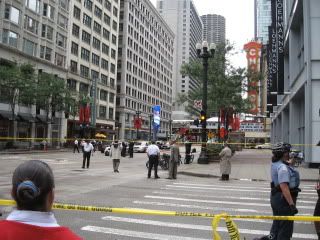 I could even see the little markers on the ground indicating where the bullets had fallen. Yikes!
I was sad to send Amy on her way. We got along so well -- there was no awkwardness and definitely no uncomfortable silences -- that I could have chatted with her all afternoon!
(In case you don't get the title of this post, it's because I made a REAL-WORLD FRIEND!)