Midway through my visit home I got together with three other writers from
Absolute Write
. I've gotten to know Rachel through Facebook and our blogs, but Haggis I only knew through AW (we both love the Red Wings), and I'd never "met" Bubastes. That didn't stop us from gathering in Plymouth, Michigan for a night of half-price wine and senior line dancing.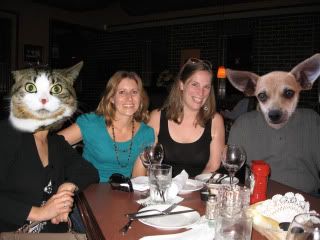 (If you're wondering about the cat and dog, Bubastes (the cat) and Haggis (the Chihuahua) don't want their faces revealed. Rachel and I know their secret identities! Bwahahahaha!)
It was a little tricky meeting people that I'd never even seen a picture of, but Haggis had given us a fairly good description, and since I got there first I had the easiest part -- I just waited for them to show up at the table. We laughed and swapped stories for several hours, then sadly the Chihuahua had to go out for a potty break and left first.
Us girls (my cousin Jenna was with us, too) kept talking long after our waiter cashed out for the night, so someone finally suggested moving to the bar area where there were still people and, presumably, refreshments.
I peeked around the corner and reported what I'd seen. "There are a bunch of old people line dancing."
I wasn't kidding. No offense to any of my elderly readers -- and these people were boogying so you really shouldn't take offense -- but they had the bouffant hairdo's kicking and were shaking their booties HARD, especially for a Wednesday night!
We should have known better than to think a group of thirty-something women could stroll through there without drawing attention to ourselves. We'd no sooner sat down than the first tipsy retiree saddled up to the table. "How're you ladies doing tonight?" We giggled him away, but they kept on coming, some more persistent than others.
We didn't dare mention that we'd all just met each other, so Rachel told one wrinkled gentleman that we hadn't seen each other in a long time and we only had a short time to catch up. Then we all dropped our left hands on the table to display our wedding bands.
The best line of the night -- or at least I THINK it was a line -- came from a younger man (although still 10-15 years older than us) who said "you're too pretty for all of you to have boyfriends." I'll have to remember to use that in my next romantic comedy.
We stayed until after midnight, raised a toast to Haggis who left way too soon, and walked away three friends richer.