In the space of half an hour yesterday I had three questions answered.
Question #1:
Is my current wip women's fiction
?
Answer, courtesy of Jessica Foust at Bookends:
"One of the reason women's fiction is so hard to define is because the definition is so simple, and so broad. Women's fiction is fiction that appeals to women. In my mind that means the protagonist could be man, woman, child or even dog. I also think women's fiction tends to have a greater level of emotion than some other books. It's a book that tugs on the heartstrings, so to speak. I know, I know, a lot of books that wouldn't be defined as women's fiction could fit that definition as well, but a lot of books that would never be called romance also have romance in them."
Question #2:
What exactly IS showing vs. telling? (too many posts to link)
Answer, courtesy of Nathan Bransford:
"My interpretation is this...: universal emotions should not be "told." Instead, we should be shown how the character is reacting to their feelings.

"...emotions are universal: we all feel sad, angry, happy, emotional, etc. etc. But how we react to those emotions are completely and infinitely different. That's what we find interesting.

"This also applies to:
- Descriptions - It's not interesting to merely hear that someone is "pretty" - what characteristics make them pretty?
- Characterizing relationships - Not interesting to only hear that two people are "close". How are they close? What do they do together?"
His entire post is well worth reading, but those are the bits that most resonated with me.
Question #3:
What the heck are my neighbors building?
"
Answer:
They appear to be closets. Go figure. (A man was actually pummeling the brick with a sledgehammer while I took the picture -- you can sort of make him out in the opening.)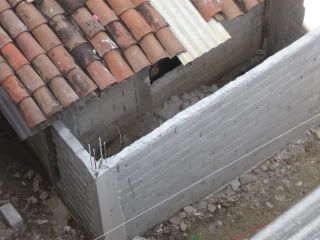 Thoughts? Do you show or tell? Write about dogs and their feelings? Have you added three feet of depth to your house for a couple closets?