That is the sound Owen makes when he's excited, frustrated, happy, hungry, playful, and sad. This is him "roo-ing" right after Ibis left to go to the store.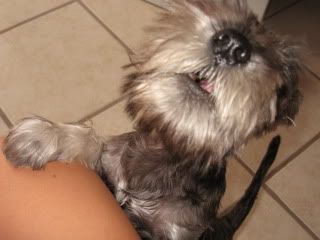 He howls at the door, then turns around to face me and howls some more to make sure I know Ibis left. I imagine his cries are something like "HE'S GONE! HE'S GONE! (look back and forth) DID YOU KNOW HE'S GONE?" It's so pitiful but I try to ignore him so the behavior isn't reinforced. But he's so cute and gets all snuggly afterwards.
This was a couple minutes later. He'd stopped crying and just looked super-duper-wooper sad instead.
I keep waiting for the cuteness to wear off, but I could stare at him all day long -- some days it feels like that's all I do. I can't tell you how many times one of us will say "look at him!" because he's doing something adorable, like rolling over, rubbing his face, twitching his ears... you get the idea.