I've talked a lot about some of the odd things in our building, and today I'm going to finally show you some pictures.
First up, the water tanks. These two are for our building and as long as the pumps keep working, we have plenty of water. Trouble starts when the pump dies or "someone" doesn't pay the electric bill that keeps the pump running. That electric bill is still in the developer's name, so that's why it keeps happening.
Still on the roof, these are the pipes that run to the four units on our end of the building. Do you like the fancy bricks that keep the pipes level? It's amazing we ever even HAVE water. That's also our satellite dish and a possible storm coming in. Sometimes the clouds stay in the mountains and it never rains on us. Other times we get a downpour.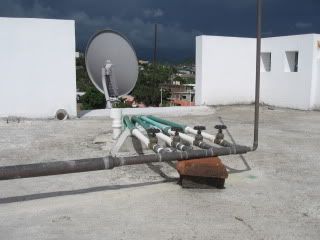 Here we have what appears to a convenience store refrigerator. It was there when we woke up several months ago and has been in that spot ever since. "Misc" is common in store names -- it basically means they have a little bit of everything -- and no, I don't know who Carlito is.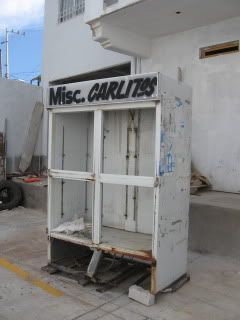 Here is the infamous "mailbox." This is why we tell everyone not to mail us things. Thursday morning we were leaving for the gym when I spotted my grandmother's handwriting sticking out of the metal bars. (Thanks gramma!) There's absolutely nothing to prevent people from taking what's there. In March the developer promised a mailbox that would attach to the front gate (which would also need to remain locked -- right now there is no lock) but we've yet to see anything.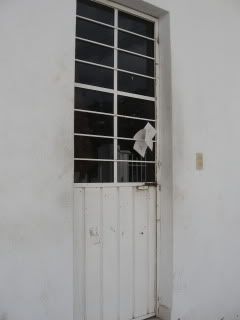 And finally, the "yard." I don't think this needs any explanation.