Owen has adapted very well to living with us instead of his mother and sister. He gets very excited for his mushy food, he nibbles my neck when I carry him up and down the stairs, and he sleeps beneath our feet.
He's already responding to his name AND we've started teaching him to sit.
His favorite spot is in front of the open refrigerator. Smart dog. He comes running every time we open it and we have to be careful not to shut his little head in the door.
This is his second favorite spot.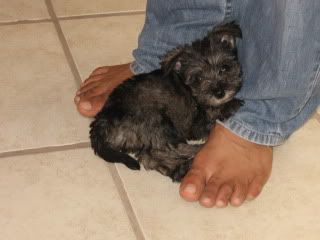 It's been ridiculously hot the past several days (I currently have a heat rash on my neck -- very attractive) so we've been "showering" him a couple times a day. He LOVES it.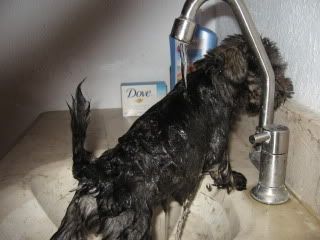 Friday evening we finally decided it was time for a haircut. He was very good for most of it, but I did have to let him chew on my fingers to keep him still while Ibis cut his head. (That's why there aren't any action shots.)
We are so happy we have him and wouldn't trade him for the world, even if he
does
wake us up at 4 & 5am. Every day.