Are you ready for the cuteness? Do you look forward to these posts, or am I boring you? How can this face bore you?
He's even adorable when he sleeps. This is what I see when I look down from my desk chair. Usually he's on his belly or side, but every now and then he wraps around the chair leg or my foot.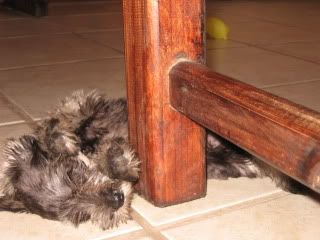 Can I just tell you, he's got this innocent look mastered. He's all sweet, acting like a perfect stuffed animal and then...
... your toe twitches and it's all over.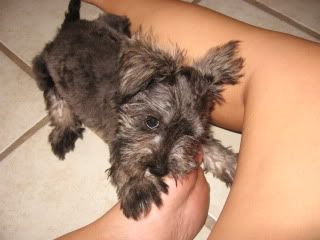 He has officially learned to sit, although he doesn't respond without food or a treat, and he's letting up on the crying when we leave. Friday afternoon we blocked him in the kitchen while I did a workout video, and aside from a couple yelps, he was quiet.
Speaking of which, he still hasn't developed his bark so it's either a howl or a cat-like meow. Ibis keeps asking Owen if he's "a sheep or a wolf." (Ten points if you can guess that movie reference) So far, it looks like he's all sheep.