Yesterday we stopped by the vet to see the puppy and upon our arrival he said we could take him right then. Say what? If you've been reading my blog for any length of time, you shouldn't be surprised (I don't know why I was) because time here isn't nearly as... hmmm, how do I say this?... IMPORTANT as it is in the US. Things are more flexible. Usually it works against you, but every now and then you get a puppy a week early!
We scrambled around town to get the last minute things (like food and a leash) then went back to pick him up! The crate at the vet's was pretty nasty so we gave him a bath in a tupperware bowl and MAN, was that water gross. I think we still need to give him another one, but it's already an improvement.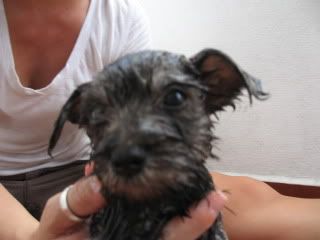 We haven't chosen a name yet because we want to get a sense of his personality first, but I'll let you know as soon as we decide.