Can you guess what these are?
If you've been following along on Twitter or are my friend on Facebook then you might guess that these are ticks. I pulled these off Owen in the space of about half an hour, and removed the same amount the day before (then again later after this picture was taken). I put water in the bowl because it's easier to drop them in there, and this way I don't have to squish them and they can't run away. I just have to keep Owen from drinking the water.
He's had bugs since we first got him, so we check him daily for little critters. (He's surprisingly well-behaved while we do it, too. Yesterday he even fell asleep while I was attacking his face.) After one particularly disgusting excavation about a month ago, we thought we had them all and didn't see any for several weeks. Well, it looks like the new litter is here. And now they're attacking us.
We've tried everything short of bug bombing the house, and that's only because I haven't figured out if they actually sell bug bombs here. We've bleached the floor countless times, torn apart the bedroom, washed the curtains... you get the idea. And they still keep coming back.
Since I'm picking them off him with my fingernails -- don't worry, they're just on the surface of his skin -- inevitably one or two ends up crawling on me, and now I have the constant sensation that creepy crawlies are on me. It doesn't help that I have lots of moles and freckles.
Right arm:
Left arm: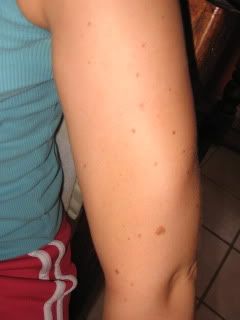 Do you have any suggestions for non-toxic remedies, both for Owen and the house? So far people have suggested feeding him garlic, washing him in dish soap and/or flea & tick shampoo (which we do have), and giving him an oral pill (which we're looking into). My preferred option is MOVING, but we need something a little more short-term.
Thanks.
ETA: LurkerMonkey just informed me that
my short story
is up at his blog today.)