Friday morning I woke up and discovered Owen is missing THREE teeth. Three! I knew they start losing them around four months, and as he turned four months on Thursday that makes sense, but I didn't expect him to be so prompt.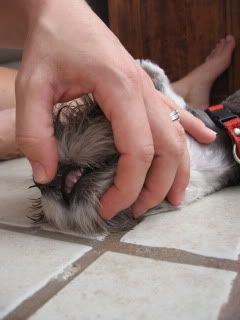 He was half asleep here and didn't want me to open his mouth, but there's a red spot where his top tooth fell out (to the left of the tooth you CAN see). The two bottom front ones are also gone.
Last night our friend Mary, her husband, and another couple came over for dinner and after a couple hours of running from person to person to person, then Oh! back to another person, Owen crashed.