I stopped going to the gym when I went home at the end of August (long story) so now all my exercise is done at home. I still do Jillian Michael's
30-Day Shred
series, and while I often yell at her during the routine, I now have someone else to yell at too.
Owen.
Seems jumping around is puppy code for LET'S PLAY! LET'S PLAY! BITE ME! LET'S PLAY! It only took one well-timed jumping jack with him between my feet to stop him from getting too close during cardio, but it seems nothing will keep him away when I'm doing sit-ups.
He starts innocently enough. First he meanders over (or pounces, depending on how sleepy he is) then plops onto my belly. This is the preferred position. I can still do sit-ups with him lying on me, and he doesn't weigh much so it doesn't slow me down.
But the belly sitting doesn't last long. After maybe five seconds he scoots forward until we're nose to nose and he snuffles my face. Doesn't matter which part -- whatever's closest works. I, in turn, laugh (read: giggle) which is puppy code for STRANGE NOISE! COMING FROM MAMA! LICK! BITE! SNUFFLE!
At this point I push him off me -- still trying to do my sit-ups (I'm following along with a video here) and he burrows his nose in -- you guessed it -- my armpit. Aside from the gross-factor, it also tickles, which causes more giggles and usually an unintentional elbow to his head. I push him away again and he moves around to...
*cue harps and angels singing*
MY PONYTAIL!
Game over. Have you ever tried doing a sit-up with an animal clinging to your head? It's really not as effective as you might think. Fortunately at this point the video has moved on to the next round of cardio, at which point Owen backs off and regroups until it's time for sit-ups again.
The last time I worked out I finally put him on his leash and tied him to a chair just out of reach, so instead of him attacking me, he talked to me the entire time. At least he was encouraging during the sit-ups. :P
Who me?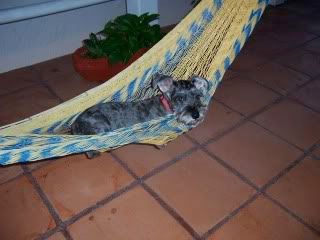 Here he is acting all innocent while visiting friends earlier this week.