This is what I wake up to every morning. I've been meaning to share for a while but bringing the camera to bed is not always first on my mind.
This is the actual view when I'm lying down.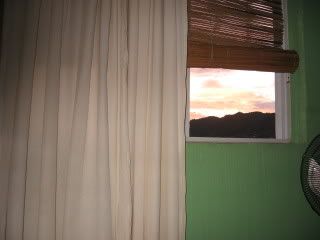 And, I repainted the kitchen wall yesterday! It had taken a beating with all the concrete, etc, so I picked a more vibrant color. It's not as dark as I'd hoped but I still like it. Today I'm going to repaint a small wall near the bathroom that was the same gross orangey color. Then I'll try to get back to editing.