My girlfriend flew home yesterday (we had a WONDERFUL time), then last night we had drinks with a friend from high school that I haven't seen in at least ten years. He's here on his honeymoon so we interrupted the romance for a little get-together. After four days of relaxing and not thinking about anything but what to eat next, I have a lot to do!
As most of you know, NaNo starts this Saturday and I'll have to write 1667 words every day of November. In the next few days I need to put together an outline so that once I start writing I can just concentrate on the story. I don't want to waste time trying to think of what happens next if I can get it organized now. I also have a few more details to wrap up with The Other Side (that's on the schedule for today) before sending it to my readers on the 1st.
In addition, Ibis' boss wants me to design and launch a new website for the hotel by December 1st. I'm excited to do it and figure multiple projects for November will keep me focused, but I still have a minor detail - I need to learn the program. I started over the summer but haven't gone back to the tutorials since August, so it looks like I need to start managing my time better. :)
I'm also working on a site for my dad and the family, so that will fall into place along with the hotel site. AND, my one client here is ready to send an outstanding project to the printer. I'm happy to get that wrapped up, but it's amazing how everything happens at once!
Thanks to my friend who visited, I have a little help. Presents!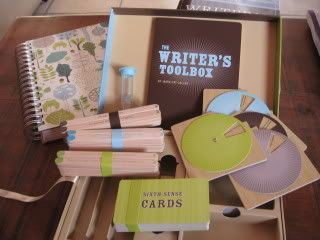 (ETA: there's a description of the Writer's Toolbox in the comments.)
She also delivered the 2009 Writer's Market so I can get started with freelance writing. Looks like 2009 will be a busy year for me. :)
(I can't get it to turn, sorry for the sideways picture)
*****
Finally,
Colby
put together a HILARIOUS
video
in honor of my blog.