Our internet died Friday afternoon and we finally got it working this morning. Thankfully TelMex works seven days a week, and I even remembered to write down all the steps so we should be able to fix it ourselves next time.
So, two days without the internet, what does one do? Well, besides finishing typing all my handwritten words for my wip, I went through tons of photo cds that have been sitting on our shelves, most of the which are from our wedding. Friends who took pictures thoughtfully sent us copies, so it was like discovering a whole other side to our big day.
Our friend Jennie took tons of pictures while we danced at the reception, including at least thirty of one salsa dance.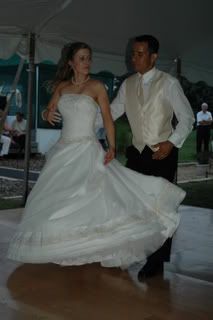 I love how my dress is swirling in this picture. We love to salsa dance but my dress was so heavy it threatened to knock Ibis over and nearly took me with it. So, not too many salsa dances that night.
Then there's this one.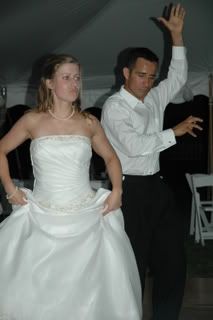 I think this is either our attempt at flamenco or paso doble, neither of which we actually know how to dance. What kills me is how seriously we're taking it. I about died laughing when I found it.
Enjoy the rest of your weekend!