While waiting in the doctor's office the other day I saw this: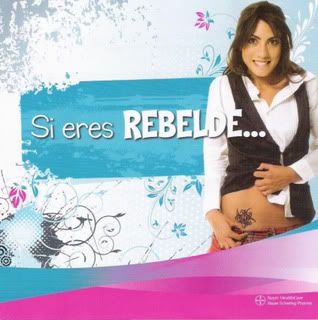 It says "If you are a REBEL..." Because you know, a tattoo equals rebel. (Robin, I don't mean you, lol.)
Then the inside says "...then you need to know about contraceptives."
Good point, sure, and it's important to teach today's teenagers about safe sex, especially considering "in Mexico, it's very elevated the number of pregnancies in adolescents age 15 to 20 years old." (sorry for the literal translation.)
This advertisement is for a monthly injection that is:
• Effective
• Safe
• Discreet
• Rebellious
Excuse me?
I have a problem with all the stereotypes going on here. I admit, I've seen a lot of pregnant teenagers but none wearing school uniforms, so perhaps this is effective with the target audience. But implying that if you get a tattoo or belly piercing you are a slut and will have lots of sex just pisses me off. I don't know, maybe I'm reading too into this and should just be glad someone is advertising contraception for younger girls.
What do you think?