The other day
Erica
asked what makes our town unique and I mentioned that the trees in Zihua are trimmed to accommodate people 5'5" and shorter. Yesterday I took pictures on my way downtown, and please note that I did not go out of my way to find these trees, this was just along my normal path.
And now, a song:
Do your trees hang low?
Do they hit you when it blows?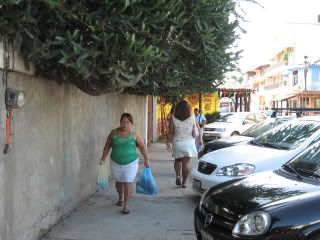 Do they force you off the sidewalk?
Do they smack you in the nose?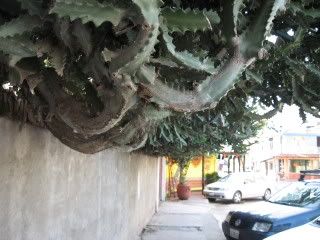 Do you get a crick in your shoulder when you're walking around town?
Then your trees hang low.
*****
Next up, tourists!
Amy
made a joking (I think) request to see tourists the other day and as luck would have it, there was also a cruise ship yesterday.
First, the ship from the roof of our building.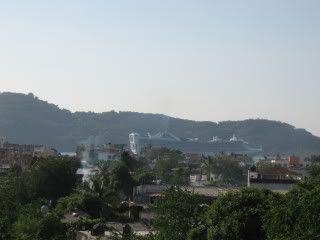 Next, the tourists preparing for a walking tour of Zihuatanejo. This was especially funny to me because downtown Zihua - the area tourists would be interested in - is about six square blocks. To each his own.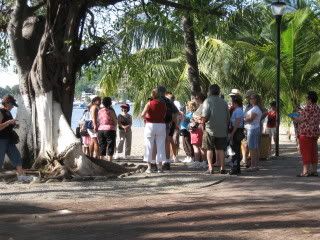 My friend and I went to a new place for breakfast that's a block from the beach and in the middle of what's known as the pedestrian walkway. Cars aren't supposed to go through and it's a nice place to hang out. While we were eating, the tour groups started passing.
You can't really tell here, but the person in the lead in the first photo is carrying a red flag above his head so everyone can see him. They were moving so slowly that one younger couple stopped to talk to us for several minutes while the group trudged by.
A few minutes later, a second group passed.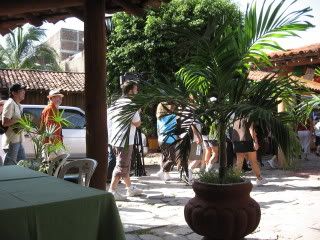 And finally, a picture of the cruise ship from Ibis' work.