While I said I finished my first round of edits the other day, there's still a lot to do. I spent a good part of the afternoon yesterday researching the area where my novel takes place - looking at pictures to make sure the setting is accurate and reading articles about illegal activity there.
I found several disturbing articles - including
this
, which happened near where my conclusion takes place - and a 5-minute
video
called The Other Side (d'oh!) about illegals crossing with a coyote.
I also needed to look into a couple small town that I've literally picked off a map. I needed to find out a little more about the topography and how the highways come through - all easy enough online. I know I can take creative license, but if it's mountainous and I have it flat, that's a big difference. A few well placed words and my story is more accurate.
My biggest problem arose when I found pictures of the actual border crossing. In my story, the MC and eight other men are hiding in the trunks of several cars, all of which approach the border together. They are stopped by the border patrol and my MC escapes with another man and runs into the desert.
Here's an excerpt:

Light flooded into the trunk. Two men in sunglasses and dark green uniforms looked into Mateo's eyes. Their bullet-proof vests screamed that running was not the best idea.

"Go!" Alejandro shoved him forward.

Mateo jumped but his foot caught on Alejandro's leg and he fell into the officers. His shins slammed into the edge of the car and he landed in a heap on the officers' feet.

"Stop!"

"Freeze!"

(snip) Alejandro tackled the second officer into the first, then looked past Mateo, the fear plain on his face. Mateo glanced over his shoulder and across the line of cars to the border. More officers were running at them, guns drawn. They raced away from the car.

Shouts followed them as they reached the edge of the road.

"Don't stop." Alejandro was breathing heavily.

Mateo looked back as he ran. The trunks of the other cars were open and groups of men surrounded each one. Some were still in the trunks, but Rico was out and fighting several officers.

Why were there so many? Mateo had never been to the border, at least not one with a checkpoint, but it seemed like there were way too many police for such an insignificant crossing.

Four trucks pulled up to the small outpost, blocking the cars from going any further. Men poured out of them with much larger guns drawn. POLICIA FEDERAL was emblazoned across the sides of the vehicles and the backs of their black uniforms.

One took aim at Mateo and he dove to the ground.

Bullets hit the dirt near him, sending dust flying and exploding a cactus near his head. Pedro dove in front of him, his arms stretched out above his head. Mateo crawled to his side. "We have to keep going. Don't stop." He pushed his shoulder and recoiled. His hand was covered in blood. Pedro's blood.

Pedro gasped for breath. "Help me. Please." His shirt was quickly turning red, staining the ground beneath him. More bullets whizzed inches above their heads.

Mateo looked into Pedro's eyes. "I'm sorry." Pedro's wheezing faded as Mateo scrambled on his hands and knees after Alejandro.

"That bastard! He's getting away!"

Mateo looked back to see Rico pointing at him.

"Mateo, come on!"

(snip) They were several hundred yards from the road, but there was little to protect them. Scrub brush and cholla cactus didn't stop bullets. Small boulders littered the ground but they did nothing but serve as obstacles as they ran.

(snip) Alejandro was leading him towards a ridge of mountains in the distance. Or more accurately, the gap in the mountains. "There's a road just past that opening. If we can get across, we're halfway there."
Now this is what the border actually looks like: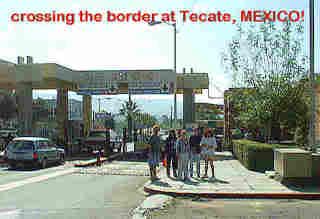 Don't they look happy?
I can fix this by having them get stopped prior to getting to the border. They get into the cars at a ranch in the desert and are on a desolate road, and that setting will work with what I've already written. Just goes to show why we have to research!