I wrote yesterday's blog post late Wednesday morning, and the day went downhill quickly after that. My body felt like someone had gone at me with a baseball bat, but it was the hot flashes and chills that convinced me to go back to bed.
Most writers (and all creative people for that matter) have a place where ideas come to them. Many claim the shower is their go-to place, while others take walks, talk with their loved ones, or play with their pets. Me? I lay face-down on my bed.
I didn't used to do that -- there were no beds at the ad agency -- but since living in our condo where the majority of our stuff is in the living room, hovering over my desk, I realized I needed to step away from the computer to let myself think. My bed is only six steps from my desk (I just checked) so it's not like I go very far, but the solitude and change of scenery helps me to focus.
The trouble with training myself to come up with brilliant ideas while lying in bed is, well, brilliant ideas come to me while I'm lying in bed. Whether I want them to or not. The
short story
I linked to last week popped into my head when I was
almost
asleep, and yesterday was no different.
I've been trying to come up with the "back cover copy" for After the Fall, a one or two paragraph blurb that quickly describes the premise for my book, and wouldn't you know it, the minute I got comfortable and convinced the aches to shut it, the blurb sprung into my head, fully formed. My notebook was already next to me (I'd scribbled a couple notes earlier and thought this might happen) but this time the problem was different:
I was lying on my left side, and I'm left-handed.
As I debated with myself about whether or not it was worth it to roll over and write down my thoughts (you know you're sick when rolling over takes planning) when a brilliant idea occurred to me:
I could write with my right hand!
It took a little longer, but I got the idea down. A short while later Ibis came in to check on me.
"Are you delirious?" he asked, pressing his hand to my forehead.
"No, why?"
He pointed up the notebook, still lying next to me.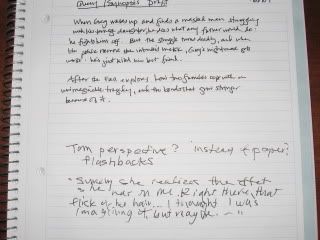 Apparently my writing wasn't as clear as I thought and the poor guy thought I'd lost my mind!