We had a very relaxing day at the beach yesterday. I met a woman who is both an avid reader AND is trying to get her doctoral dissertation published, so we had lots to talk about. Her husband likes the water as much as Ibis and they hung out most of the day beyond the waves. Oh! And I saw a little brown sting ray.
The first thing we noticed when we got there was that at least 20 yards of the beach was missing. Apparently, tropical storm Andrés that passed through here a couple weeks ago took most of the enramadas (open-air thatched-roof structures) as well as most of the beach.
There used to be seven or eight tables deep, and now there are only two. The waves revealed a slate/rock wall that must have been buried for years.
We just couldn't get over how different it looked. For one thing, we'd never noticed several palm trees that must have been in the center of the restaurant and are now almost at the water's edge. We sat at a table directly beneath them. I loved looking up and seeing all the green with the sky peeking from behind.
Shortly before we left, while I was talking with my new friend, our waiter pointed out a commotion at the far end of the beach. "La camioneta!" he exclaimed.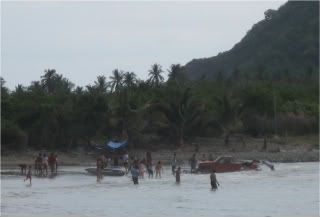 Indeed. I'm guessing they were trying to get the wave runner onto the bed of the truck and a big wave pulled it out. Whoops.
So how was your day?