Friday was a big day. Not only was I feeling better, but I found pickles!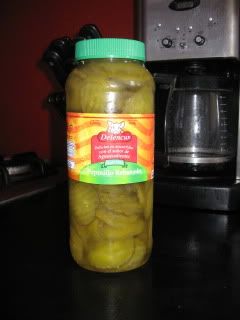 (please spare me the pregnancy jokes -- I'm not)
This may seem a little ridiculous but I adore dill pickles and the only time I've had them since January 2007 is the dozen times I've ordered a cheeseburger from the Captain's Daughter. I wasn't completely certain they were dill until I got home and tried one (let's not get into why there's a
pig
on the label) and now that I know they are, I might go back and stock up.
As if that wasn't enough, around 5pm I received a cryptic (meaning, in Spanish) phone call from a woman looking for Ibis. I listened to her ramble, until I heard the word "caja" (box).
"Sí! Sí! Es por mi!" I exclaimed.
She was down the street but couldn't find our condos, so I got her pointed in the right direction (towards the transvestites) and ran downstairs to meet her. It was originally supposed to arrive on Tuesday, but this being Mexico and all... it didn't. 5pm on Friday still counts, right?
Lookie!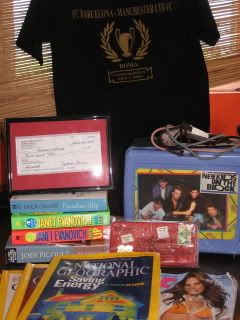 (I apologize if you don't care what's in my care package. I'm very excited.)
- The t-shirt is from the Champions League Final (fútbol) that coincided with my parents' trip to Rome in May.
- The NKOTB lunchbox is the surprise from
Sara
, along with the chocolate (that I'm hiding from Ibis -- he doesn't read this so he won't know) and Jodi Picoult's
My Sister's Keeper
.
-
Erica Orloff's
Freudian Slip
that I won several months ago has finally gotten here and I cannot WAIT to read it (my mother said I'll love it).
- Two more Evanovich books (thanks again
Spy
)
- You can never have too many magazines, but I do think it's ironic that the cover model for this month's
Self
magazine is none other than Ms. Jillian Michaels, the bane of my existence.
- Hair thingies. If I'm at home, I'm sitting in front of a fan and ever since I cut layers I've had wispies in my eyes. Hopefully these will remedy that. They do have these in Mexico, but only in flourescent colors and/or with sparkly things on them. No.
- AND my very first check for my writing, already framed courtesy of my parents. :)
Sadly, the cookies from Sara didn't make the cut. (Neither did the eyeshadow from my mom, but there wasn't even any evidence of that.)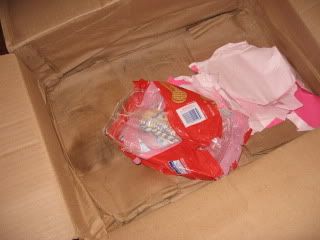 Thanks Mom & Gary! Thanks Erica! And thank you Sara!