Not only did he cook us a gourmet meal last night, he saved my rear tire from falling off the car.
First the tire. Yesterday we dropped Ibis off for work and were on our way to the grocery store when the rear tire started making a lot of noise. Similar to a flat, but I'd just checked it and I knew that wasn't it. We took a look when I parked and discovered the lugnuts were barely attached to a tire we recently replaced, and one had completely fallen off. We were minutes from certain DEATH! (well, maybe not death, but no one wants their tire to fall off.) My brother is the one who noticed it so he tightened them up and we were all set.
Now my brother is not a mechanic, he's actually a chef, and last night he cooked us one of the best meals I've ever had. Here he is cooking: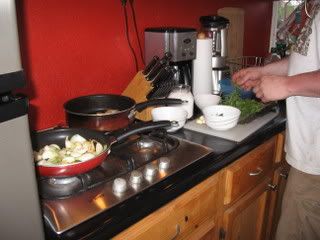 I completely forgot to take a picture of the salad. Garlic shrimp on a bed of lettuce with avocado, grilled radishes and a crazy balsamic/ginger/garlic dressing. The main course was mahi-mahi with roasted potatoes and grilled onions. Yu-um!
Look how happy Ibis is to have a gourmet meal right in our very home! Don't mind the plastic cups.
Today we're going to the beach half an hour south of here. I'll let you know tomorrow if we see anything out of the ordinary.