I try to keep my posts balanced between writing and Mexico, and my tags show that to be true. Sometimes I label things Zihuatanejo and so that may skew things in Mexico's favor, but for the most part, they're fairly even. (I feel bad for the AlphSmart, which I thought would we a frequent topic, but I couldn't get the thing to synch with my computer.) Anyway, on to my post!
I've received at least a dozen emails from people who found my blog during a search about the violence in Zihuatanejo (and I'm sure typing that will give me another spike in those emails). One person has already come and gone since the initial violence a few weeks ago, and yesterday she sent me a picture that she took during her stay.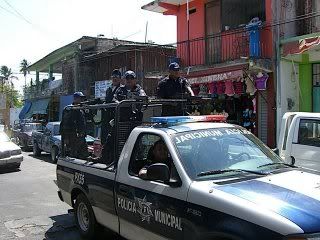 I've described the way the police stand in the back of the trucks, but she captured it much better than I was able to. She did comment that they asked permission beforehand, but I'm hesitant to even talk to them - she's a brave lady. She also mentioned that she visited a town called La Union, not knowing the local police chief had just been gunned down. They even saw the bullet holes from the attack!
Now onto the writing... I started working on my fourth draft of The Other Side earlier this month, and while I've made progress, I haven't been consistent. In adding a subplot, I figure I'll need five new chapters. Ideas for the initial and last chapters were easy enough, but I was having trouble figuring out how to fill out the middle two. I wrote the first chapter last week, then, with all the craziness of playing catchup from things I didn't do while my dad was here, I didn't write again.
Yesterday I forced myself to get back to it and managed to write 1500 words and, more importantly, I figured out what to put in those new chapters. My outlining style mainly consists of bullet points in the body of the document that I place at the beginning of each chapter - nothing fancy - but I'm very relieved to finally have
something
for each chapter. I passed 67,000 words which, if you've been keeping track, is 20,000 more than I had at the end of my second draft. If you're on facebook you may have seen my status that I passed the 66,666 mark while writing about a dead child - that was creepy!
I know I still have at least another 10,000 in me, and I'm so relieved to see the light at the end of the quest for 80,000 words.
Finally, some exciting news: my
aunt
sold a second book!
How was your weekend? How is your writing coming along?