No, that's not a new greeting, that's how our nephew used to say helicopter. It's not much different in Spanish -
helicoptero
- so his then three-year-old mouth had the same difficulty as an American toddler.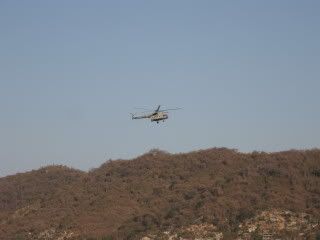 There's a naval base here in Zihua and it's quite common to see helicopters flying overhead throughout the day. Yesterday as we were leaving the beach we noticed a huge dust storm over the downtown area, and at first, overreactor that I am, I thought it was a fire, then another grenade attack. There were several helicopters hovering quite close to the ground, and we finally decided they were just stirring up the dust.
A short time later, just as I got home, I heard another helicopter flying through town. I'm not up on my 'copter lingo, but the ones we usually see are normal what I'd guess you call "military" helicopters. But these looked like troop transporters.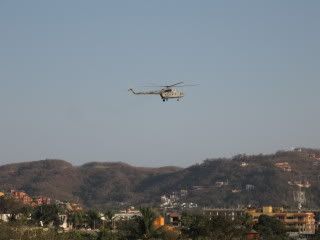 Two came through town right after another, then a third, normal looking 'copter landed as well. My overactive imagination pictures dozens of troops swarming the downtown area, but I never went down to check it out. Hopefully today we'll find out what's up.