It's kind of hard to tell, but there's a truck with policemen riding in back. This is the first one I've seen in a week with the men sitting down. Before the violence increased this is what they always looked like; since then they ride standing up with their machine guns drawn. There was another truck in front of that one but we didn't exactly want to get any closer.
A troop transport truck. I think this is the military.
Orange cones! I'm guessing they'll do something to make this more permanent. By making it one way, anyone who drives by and attacks the police station will have to head into town, as opposed to jumping on the highway. The field to the right is where Ibis was when the grenades were thrown two weeks ago.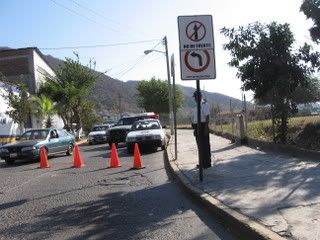 The police station. The sandbags are a recent addition. Notice there are still people walking by as if nothing is going on. We've driven by there but I don't have enough nerve to go for a stroll on that sidewalk.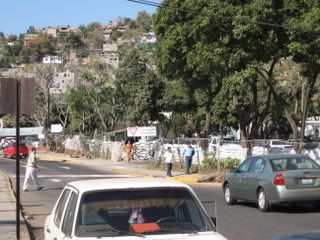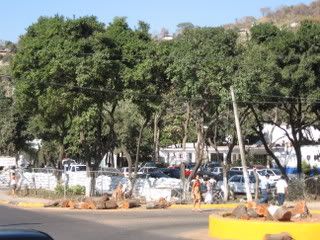 In case you're wondering what I was doing so close to the scene of the crime - the BEST tacos in Zihua are next door to the police station and we had to take my friend before she leaves tomorrow. Some of you may think rezicon and molé are not worth the risk, but ohhh, you're so wrong. :) Plus we drove behind the block.