Rajas en crema
is a traditional Mexican meal that I've actually mastered. Me, the non-cook. :) I've mentioned it before and after some encouragement from my Absolute Write friends, I took pictures as I made it last night. Ready?
Ingredients:
Equal number poblano peppers and tomatoes (7-8 for 4 servings)
Half red onion
4-5 garlic cloves, chopped
Mexican cheese - an amount roughly the size of a stick of butter
3 heaping tablespoons sour cream (one small container)
First you grill the peppers without oil/spray. I have six here, which makes enough for three large servings. I'd recommend a couple more if you have more people.
While they are grilling, chop all the veggies.
Here comes the fun part. Cook the peppers until they are blackened and the skin starts to bubble, then remove from heat. The more bubbled the easier it is to peel, but be careful they don't burn. They only need to cool enough that you can handle them.
While the peppers are cooling, coat a large skillet with oil. Add the garlic once it's hot, cook for a minute or two, then add the onion. Cook another couple minutes, then add the tomato. You might have to add more oil; use your judgment. As long as nothing sticks, you're fine. Add several shakes of salt, then lower the heat to medium and throw on a lid.
Now back to the peppers. They should be cool enough to handle so now you need to remove the skin.
Next, cut off the tops, discard the seeds, and cut the peppers into strips roughly half an inch wide.
Add the strips (
rajas
) to the cooking vegetables and mix. Next add the chopped cheese and cream.
Cook for a few minutes, just long enough for the cream and cheese to warm up. Serve,
and Enjoy! We eat it with tortilla, but a fork is fine too. :)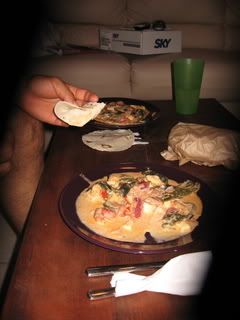 I have no idea how many calories or fat grams this has. I use low-fat sour cream but everything else is healthy (enough). If anyone tries this, let me know how it turns out!