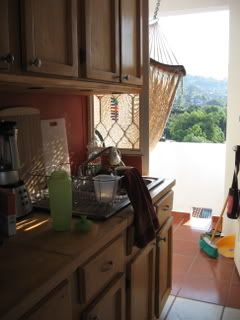 After the talk of my view yesterday and this morning I decided to capture the morning sun and make you really jealous. ;) While we have a beautiful view, there are plenty of things I dislike.
1)
The kitchen is really narrow.
The property line cuts at an angle so the units on our end lose space in the kitchen. Notice how the counter extends beyond the doorway. Brings bonding while cooking to a whole new level.
2)
The window doesn't have glass.
While this keeps the breeze flowing, it also means we can't block out bugs, rain, smoke, or the neighbors' music. But it does give me a place to keep my clothespins.
3)
We don't have a real countertop.
The man would made our cabinets put plain wood on the top so we'd have a working surface, and we planned to finish it shortly after we moved in. One year later we still have the plain wood, gaps and all. We're hoping to get a concrete counter, but the car needs work so that may have to wait a bit longer.
4)
The sink is tiny.
No comment necessary.
5)
We have very little counter space.
What you can't see in the picture is our stove, which begins at the left edge of the counter, and the fridge is beyond that. I get very creative when cooking meals.
6)
We don't have a stove or toaster oven.
While I've mastered making toast on the stove (and actually prefer it that way) I'd LOVE to be able to toss dinner in the oven and not have to worry about it for half an hour. My mom is baking cookies tonight and now I really want homemade cookies!