This isn't what I was referring to yesterday, but hey, I'll take it!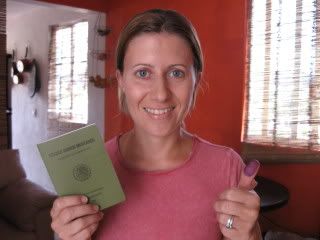 When I called immigration last week, the lovely woman there told me to call
this
Thursday, but didn't say why. When I called in the morning she told me to come in at 12:30 to sign some papers, but again didn't give me much of an explanation. I had to wait half an hour before she finally stuck her head through the window and said she just had to make a copy of my FM3 and then she'd call me back.
I had no idea it was ready!
Back I went, where I signed my name a bazillion times, then stamped my thumbprints all over the place (hence the purple thumb in the picture above). She told me a whole list of rules I need to follow if and when I leave the country, some of which I didn't quite understand, but I assume that as long as I let them know when I plan to leave, there shouldn't be a problem.
Now if only we could do something about that
other
visa...