First, thank you to Erica and everyone who commented yesterday. I learned a lot about my regular visitors, as well as those of you who I see around the blogospere. Thanks for stopping by!
Now, as most of you are aware, there's a reason most people don't visit Mexico in the summer (bad economy, drug wars, and swine flu not withstanding): it's HOT. Jungle hot. The type of hot we get for one week in the Midwest that once it's over we slap on our badge that says we suffered through The Sweltering Summer of '09 and prepare for winter. Except it's only May, and I'm already dying.
Ugh.
In the past week it's gone from being a little warmer mid-afternoon as the sun sets into our living room, to holy mother of blazing deserts I think the sun just landed in our living room. And it brought the ocean with it (it's very humid).
Double Ugh.
Ibis swears it wasn't this hot last summer, but I think we've just blocked it out. Either way, I'm back to multiple showers a day, drinking even more water than normal -- so much that I'm thinking I need to mix in a Gatorade every now & then so I don't get water poisoning -- and we've slept with the AC for the past two nights. I think we used it for about two months last year, and not until July or August. I'm a little nervous about what this means for the rest of the summer.
A thick haze arrived earlier this week and has hung around ever since. Normally the mountains on the other side of the bay appear the same color as the trees on
this
side, but as you can see from this picture, we got moisture in the air.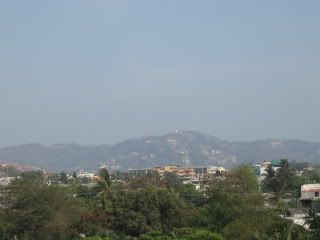 Fortunately, we have ways to beat the heat. The best? Paletas! They are essentially popcicles, but in addition to water & sugar based ones, they also make them with fresh fruit. Here were have my new favorite flavor, strawberries and cream.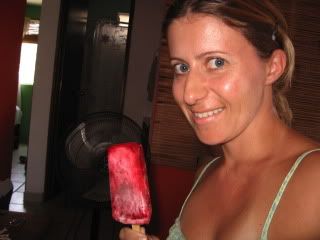 I had to eat it FAST!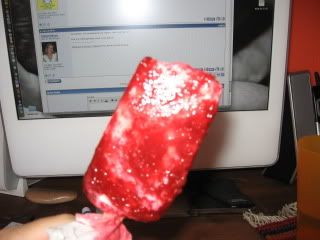 (I had to include this picture because of what's on my computer screen. You AW folk should understand.)
Anyone know any stay-cool tricks you'd care to pass along? I'm hoping my body adapts soon because it's been impossible to get any editing done when my brain is dripping out of my ear.