I'd like to give a big welcome to Erica Orloff, also known around my house as "the writer I know who's published a lot of books." Emphasis on the
I know
part. :)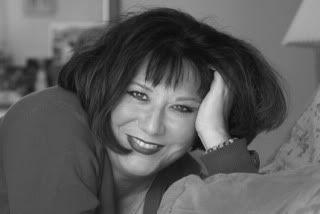 Erica's
blog
is one of my favorites because she always finds a way to tie anything in her life to writing, creating wonderful lessons for other writers in the process. I've learned from her than most of my other writing friends combined, and she's also the kind soul who offered a Synopsis Boot Camp a few weeks ago, helping me turn my one-page mess into a two-page masterpiece. Or something like that.
Her latest book,
Magickeepers: The Eternal Hourglass
, (written as Erica Kirov) debuted this month. The back cover says:
"The one and only Harry Houdini was killed for it, the most powerful magicians have battled for centuries to retrieve it, and even the Ancient Pharoahs feared its power.

What would you do for an hourglass that stopped time?"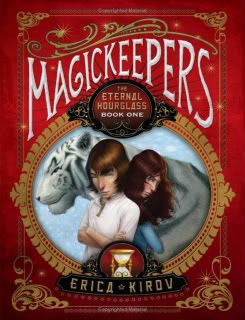 *****
Thanks to Melanie for having me. I found her blog through Spy Scribbler's and I have been a big fan ever since.
When my four children and I lived in South Florida, we met many Latino people and felt totally at home. My children's father is Mexican and they have the Mexican surname equivalent to "Smith." People would meet us, and we would have what we called "The Latin Connection"--some sense of shared background or understanding, perhaps. Then we moved to Richmond, Virginia . . . and we have lived here three years and have met TWO Hispanic families--neither Mexican. Occasionally, a schoolmate has said something very ugly about Mexicans to my kids. (I usually refer to it about once a school year as the "Mexican Incident"--it's not a daily thing--but it happens.) Sometimes I wonder "What am I doing in Richmond?"
Which makes me wonder about the role of ancestral culture in my kids' lives. They have a proud nature of their heritage--BOTH sides (Russian/Slav and Mexican). We eat out at Mexican restaurants, and we play Russian folk music in the car. If you asked them about themselves, I would think they would identify themselves as Mexican-Americans, which no doubt incites irritated comments sometimes of "We're ALL Americans, why do people hyphenate?" They hyphenate because they have at times been made to feel different . . . and because their ancestral culture is a piece of them they love and adore. We visited South Florida for Spring Break, and as we drove down the street, I watched my little girl (age 11--spunky as heck) press her face against the windows staring at the sidewalks, teeming with Latinos, and she giggled, "My peeps! I'm here with my people! I missed it here."
When I wrote The Magickeepers, about a rogue clan of Russian magicians who live all together in an enclave of Russian culture within their mystical casino and hotel, it was a nod to memories of my own. Of eating Russian food, and the stories of my grandmother. I had never had Russian characters before in any of my books, but as I went to write my first middle-grade fantasy . . . I found that thread flowed out of me so easily . . . it was just a part of my life. Not my WHOLE life, but a piece of what makes me . . . well, me.
What piece of your family heritage do you still have flowing through you?
*****
Thank you Erica!