I was all set to write a post about the unexpected side effects of our new hammock -- number one being my bladder is getting stronger because the second one of us gets up the other one steals it -- but then the cockroaches attacked.
I, being the nice wife that I am, was looking for the steel wool to clean a grill pan that Ibis had used for lunch. I opened a drawer and two cockroaches scurried out of a stack of nesting measuring cups. I screeched a little and jumped back, but continued my search. I didn't find the steel wool, but as the drawer was still open, I figured I should make sure there weren't any more inside. I flipped them out of the drawer.
Big mistake.
Apparently they took the name "nesting" too literally.
TEN -- I kid you not, TEN -- cockroaches scrambled out of the stacked cups RIGHT AT ME!! I screamed and jumped out of the way, right into the garbage can that was sitting out. The full garbage can. But I couldn't stop because they were all running my way.
Now here's what I want to know: what the heck kind of creature runs AT a person who, to be fair, should be the scarier of the two (or eleven)?
I already had the bug spray out after the first two, and I went to town. Six died pretty easily -- if you count kicking and squirming for ten minutes easy -- and four more popped out while I was cleaning. At least two got away...
Needless to say I felt like I was losing my mind for the rest of the night. Every time my hair blew across my cheek I was sure one had returned to avenge it's family's death. At one point I felt like something was crawling on my foot and when I looked down there actually WAS another one nearby. That didn't help the hallucinations any.
But -- that didn't stop me from thinking of you, my devoted blog readers. The camera is usually sitting out so I snapped a couple pictures of them as they gasped their final breaths. They don't look nearly as scary in pictures as they are in real life, so I hope you'll be satisfied with a picture of my garbage instead. The black thing on the rug is the "nest."
I apologize for how blurry it is. I was still shaking...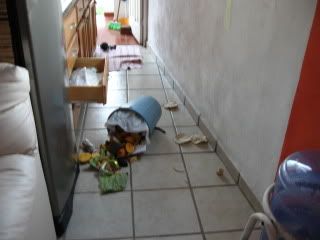 I think maybe I'll stay in the hammock from now on. I know they can fly, but at least I'll see them coming.