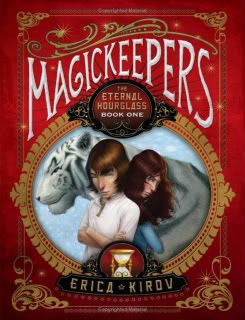 Today is the release of my blog friend
Erica
Orloff's (written as Erica Kirov)
Magickeepers: The Eternal Hourglass
, the first book in her new middle-grade series.
From the back cover:
"The one and only Harry Houdini was killed for it, the most powerful magicians have battled for centuries to retrieve it, and even the Ancient Pharoahs feared its power.

What would you do for an hourglass that stopped time?"
And from the inside flap:
"Nick Rostov's life is borderline embarrassing. His dad is well known as the worst magician in Las Vegas. Nick hasn't had a real friend in years. And his report card is not good at all. One F. Two Cs. One B-minus. And an A. In Health. But on Nick's thirteenth birthday his life changes forever. Awakening on the top floor of the Winter Palace Hotel and Casino, he meets, for the first time, his extended family. A family gifted with the power of magic, real magic, exiled from their native Russia, they now hide in plain sight among the neon lights of the Casino.

All the members of the family are powerful magicians, but Nick is unique. Nick has the sight—the ability to see into the past. His gift is the only way to unravel the mystery of the Eternal Hourglass, a magic artifact so strong it can even stop time. But the family's enemies will stop at nothing to get it. Nick knows that he is in for the adventure of a lifetime. . . if he survives."
Sound cool, eh? I admit I don't read a lot of middle-grade fiction, but I adore Erica and I'm willing to break out of my age bracket for her. Just as soon as I can get my hands on a copy... Now run out and buy a copy, or you know, click one of the links here and buy one online.
Read more on the
Magickeepers
site.