I haven't been sleeping well with the heat (101 yesterday with the heat index) and my brain is fried from all this editing, so I took some pictures for you instead.
First we have our neighbor's tree. I believe it's a mango tree, and it's gotten much greener in the past couple weeks (even though it's only rained twice).
Next are a few of the neighborhood dogs. They hang out at this house (if you look closely you can see a pile of garbage on the patio -- I'm assuming that's their food) and I often see them walking on the wall along the side. From our viewpoint it looks like they're walking on the roof of the next house.
Another neighbor has come up with an ingenious solution to sleeping comfortably -- they've put their bed outside. We're not sure how long it will last once the rains come, but for now it must be much cooler than inside their house. A hammock is also set up next to the bed.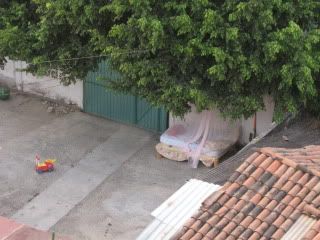 And finally, sunrise.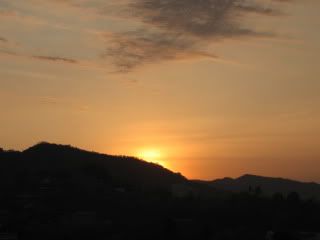 I assume you know this, but these are all taken from my balcony. :)