I'm not sure if I've mentioned it here before, but beverage packaging is quite different here. Cleaning products tend to look like soft drinks (something I have a HUGE issue with for safety reasons) and drinks come in boxes.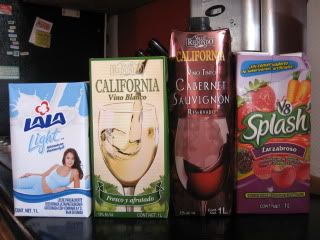 What's interesting to me is each of these holds one liter, yet they fit very nicely into the fridge. Much better than awkward round bottles. They also take up less space, both at home and in the store. All in all, smart thinking.
As a designer we always joked about "thinking outside the box". It's such a cliched phrase that we scoffed at the implication that our thoughts were ever
inside
the box. Who would do that? We took pride in being creative and looking at things from a new perspective. (I admit that got a little tough sometimes -- there are only so many ways to advertise zero percent financing on every '06 in stock.)
The same thing can be applied to writing. Sure, formulaic books sell, but it's the new ideas and the fresh concepts that catch the eyes of publishers and agents. (At least I hope they are!) I'm still rolling my eyes a bit about someone who told me last week that I should downplay the immigration aspect of my novel in my query because it might alienate people (my words). This person said I should emphasize that my MC is searching for a better life, blah blah, and leave the whole sneaking over the Mexican border stuff for later.
Then what's the point? Why write a book I'm passionate about if I'm not going to stand up and proudly show it off? Whoops, I just rolled my eyes again. If I followed this person's advice, I'd be marketing my book to sound exactly like every other book out there, when it's not.
Even though my ultimate goal is to have my story take the shape of one of those boxes -- and hopefully see it sitting nicely with it's friends on a shelf -- for now I'm happy to hang out beyond the perimeter.
(We should be getting home this evening so I'll catch up on comments tonight or tomorrow.)