Yes, I've gone all out today, but this really is an exciting development in our lives. We love grilling, but our teeny Weber grill didn't fit in the car when I moved here, so we've gone without for two years. I know you're probably thinking that we could've just bought another one, but we've tried really hard not to buy duplicates of things that we already have in storage. Money isn't exactly plentiful down here.
Well, Ibis broke down a couple days ago and now we're the proud new owners of a Mexican-style grill.
Isn't it cute? So far we've had carne asada (flank steak) and marinated chicken breasts. Yum. The best part -- for me -- is that he does the cooking.
Another photo I want to share with you is of a mango that Ibis prepared for our nephew last week. It's quite common to see vendors at the beach (or any other event with a lot of people) selling mangoes that are sliced up to look like a flower. The cuts make it easier to eat without making a mess of yourself, and the slices also make it easy to douse it with salsa. Yum!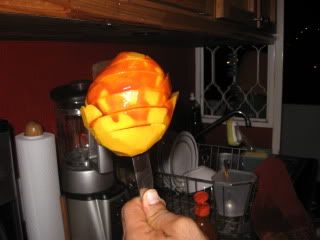 Robin and I had discussed these on her blog after she returned from Mexico several months ago, so Robin, this is what I was talking about. Except they serve theirs on a wooden stick, not a knife from the silverware drawer. The "petals" on the vendors' mangoes are usually a little prettier, but you get the idea.
Any grilling favorites you'd care to share?