(I'm stealing this title from Janna because she is on a
hiatus
from blogging.)
Yesterday I spent a good chunk of the afternoon working on my website. I took several pictures for the different pages, then prettied them up and put the pages together. Despite how boring I'm making this sound, it was a lot of fun. (I'm sleepy, forgive me.)
Among the photos is the first page of my first draft of The Other Side. It's too small to tell here, but I started it on February 21, 2008. Aside from the fact that it's no longer the opening chapter, but instead the beginning of chapter two, not a whole lot has changed here. This is one of the first "flashes" that I had about this story and I'm glad it's stuck.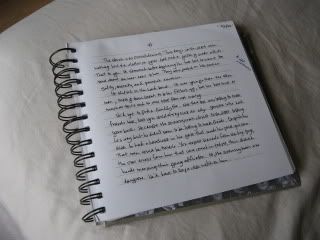 It was surprising flipping through the notebook and seeing how much
has
remained intact. Of course I edited, but the bulk of my edits consisted of adding more, not fixing what was there. For those of you who are newer to my blog, my first draft came in at around 45,000 words -- about half of my current total. So while the version in my notebook is shorter, the heart is still there.
Do you ever write by hand? Do you like your handwriting? Is it weird that I like to look at pictures of my handwriting?