Writers often tell each other that they should reward themselves when they reach certain milestones in their writing. Typically those include finishing a first draft, getting an agent or publishing contract, and seeing your book in print. Others allow smaller treats when they send it off to an agent, publish a short story, or finish an umpteeth draft.
That's where I come in.
I don't really think finishing the
third
draft qualifies for a reward, but since I didn't do anything for the first two (that I remember), Friday I bought myself something I've been eyeing for months: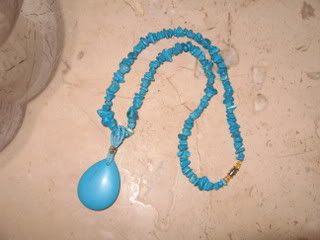 The woman at the beach actually shortened it for me and took the large stone from a different piece to make me a customized necklace. Most of the vendors have similar merchandise and I've ogled this particular piece for months, but never asked how much it costs. Hopefully she didn't rip us off too much (we paid 100 pesos).
I was quite satisfied with my reward, then Saturday morning my dad and I went to the grocery store and I pointed out a cushion for my chair that I've been lusting over. (What can I say, I sit in a hard chair all day.) He offered to buy it for me and it was in the cart before he could eat his words.
Old, flat, uncomfortable cushion:
New, fluffy, orange (that matches the walls) cushion: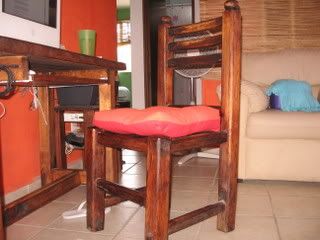 Please note that I can flip it over when I need to be in the "hot seat." Oy.
It feels like I'm sitting on a cloud!
*****
Of course I can't have all good news. I was catching up on blogs yesterday and came across a
review
for
Into the Beautiful North
by Luis Alberto Urrea. It's about a 19yo Mexican and her journey north to America. Grr. The plot is different but it's still about a journey north. Crap!
*****
How do you reward yourself when you reach certain milestones, whether writing or some other task?