We left for Huetamo early New Years Eve day and made it there in about five hours. I never managed to get the camera out, so here's what you missed: four hours of constant curves, three stops so I could throw up on the side of the mountain, one large herd of random cows blocking the road (on a curve, no less), several possible bandidos that Ibis was convinced were going to try to rob us, and 33 burros on the side of the road. I only counted the ones that were loose and actually on the road, not the ones behind fences or tied to a tree or bush. Let's just say there were a lot of burros. And chipmunks.
Once we arrived, we pulled out the camera. This first picture is a building up the street from Ibis' grandmother's home. Unfortunately the entire family was in Morelia for the holiday so we were only able to track down a cousin. We spent the rest of our visit with his brother and his family (they have different fathers and therefore different families).
A cool bridge on the main road.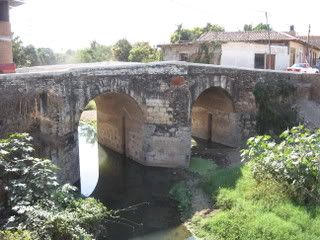 One street near the market. Cars still drive through these narrow passages but the sheets protect the vendors from the sun. We returned the following morning for breakfast and got to see them hang the sheets before it got too hot. Ibis also bought ten pounds of food that he's been dreaming about for years.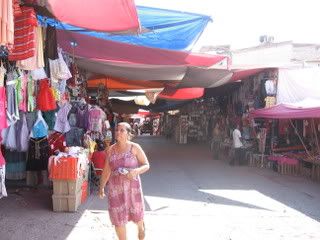 The road above the market leads to the church, which overlooks the entire area.
There are gates on all four sides of the church plaza. This is just one of them. The flowers and trees were beautiful.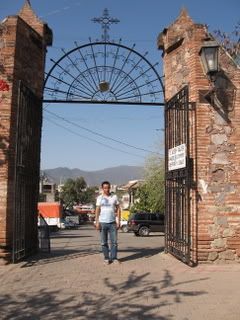 We returned to the church with his brother's family later in the evening. I'm not Catholic but it was impressive to see how many people gathered to be blessed before the new year.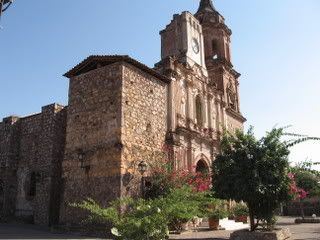 The plaza in the center of town. We stayed in a hotel on the plaza, thinking we'd be downtown for all the new year's festivities, but it was deserted. We went to bed before midnight and waited for the sound of gunshots to wish each other a happy new year. :)
This was on the drive back. Because our drive there was so awful, his brother recommended a different road that would eventually meet up with the toll road from Morelia. It wouldn't necessarily be faster, but he promised less curves. We didn't have a map but Ibis had a good idea where we were headed, plus he's not afraid to ask for directions along the way.
We saw a lot of animals on the road but I was only able to catch a couple of them. These horses were being led, unlike the cows we saw on the way to Huetamo.
My camera was too slow! There were about twenty large cattle, but I only caught the last one and the guys moving them along.
A burro running alongside the rode. We usually honk so they know we're there but they're pretty good about staying on the side. We saw dogs in a few places that did NOT want to get up from the middle of the street - how dare we disturb they're rest!
More cows.
A melon farm. Yes, Ibis went up to them and bought four melons. We've been eating food from Huetamo and melons for the past four days.
And now for the fun part of the trip. What Ibis' brother neglected to mention was that the road connecting us to the toll road was - oh... how do I say this - not finished. The pavement turned to gravel, which turned to dirt, and we chose a dirt lane along the side instead of the bumpy gravel, but they eventually merged back together.
We did stop a passing car to make sure we were headed in the right direction (there was NOTHING out there) and he assured us that we'd hit the toll road in another hour. That was after we'd already been on this road for an hour. We kept thinking it was strange that his brother didn't mention the dirt road, but we were too far along to do anything about it then. The stretch of road leading up to that point was brand new and beautiful, so we figured it all balanced out.
Our car after two hours of dirt roads.
The toll road! I took this picture to show how people travel here. There are several kids in the back of the truck that you can't see in this picture, and not only am I constantly bothered by how unsafe this is, they were also throwing all their garbage out the side.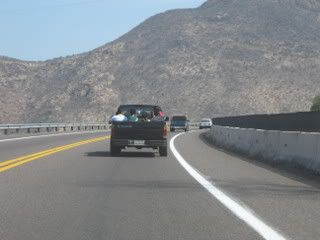 Agave plants (that's what they make tequila with).
Lakes along the drive. They always make the long drive more enjoyable.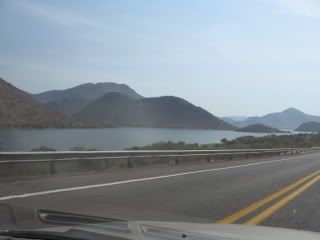 The mountain that saved us. Somewhere in hour two on the dirt road, Ibis said that he recognized this mountain. We've commented on past trips from Morelia that it looks like a face (lying down) and sure enough, we could see it from the middle of nowhere. It gave us hope that we were going the right way and would eventually make it there.
The shortcut recommended by his brother took five and a half hours, but at least I didn't get sick. We checked the map when we got home and we drove all over two states, and the dirt road we were on isn't even shown. In all it was a good trip, although disappointing that we didn't get to see his family. I'm glad I got to see where he was born and I have the urge for a roadtrip out of my system for a couple more months.