Ibis made a lot of progress yesterday and now the house is black. Who knew fine black powder could spread so quickly? Add to that a torrential downpour last night and we now have fine black mud. We'd run out for dinner and it was so heavy on the way home that we had to stop a block from home until the water lowered enough for us to get by in the car. We wanted to take pictures and planned to run home for the camera, but not being able to get in kind of threw off that plan. Next time.
Before I get into more pictures, I want you to check out
A Really Nice Murder Blog
. Our favorite Soccer Mom posted the first five of ten lessons she's learned about writing from television. It's well worth a peek.
And now, on to the pictures!
Pouring the black cement
Smoothing the black cement
The transplanted kitchen
Admiring the pour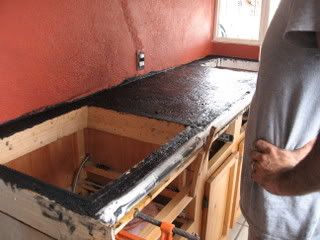 Removing the mold for the edge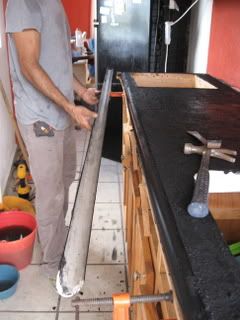 What a kitchen looks like after a day of pouring black cement (the rest of the house looked about the same)
End of day two