Yes, I carried all of these on the plane with me. Yes, I paid extra, and yes, the handle of my suitcase broke. But I think it was worth it. :)
Here's a close up of the writing books. I'd really rather not type all these in, but I can clarify a title or author if you have trouble seeing it in the photo.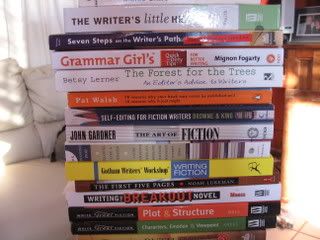 I'd like to thank my numerous benefactors for supplying me with this staggering supply. My mom, who bought eight of the writing books and who also let me raid her basement library. Megan, who bought four writing books plus two novels. Zoe, who sent me a writing book and became my first online friend with whom I had physical contact. My aunt Karen, who gave me five books that were all duplicates (they are all Backspace authors). I'll also thank my dad who waited patiently at the bookstore while I perused every single aisle.
Finally, a sunset picture from the other night. The sun is actually behind me in the picture; the bright spot is a cloud.