Ibis has two days off and yesterday he returned from running errands with supplies to build our concrete counter top. Haven't heard me mention it before? That's because so far it had only been talk. Before I left for Michigan we talked about colors (you can stain the concrete) in case he was able to have someone come in while I was gone, but when I got back and nothing had been done, I wrote it off.
Well yesterday he hauled concrete, metal caging, and all sorts of trowels, up the stairs. He ripped off part of the existing counter, which is nothing more than the top of the cabinets, then hammered down the metal to frame the concrete. The stove is inside the cabinets, the sink on the patio, and everything else is in the living room.
At one point I looked down and saw the ants scurrying all over the place, more frantic than usual.
"They're probably wondering what the hell is going on," I said
"They probably think we're adding an extension to their home."
Despite what they think, I do not plan to allow the ants to stay.
There was no warning that any of this was happening. I would have appreciated a heads up so I could make breakfast or, oh, shower, first, but I'm not complaining. I'm so excited we'll finally have a proper countertop. I think we're even getting a new sink! It's been stained since the developers built the unit and I'm tired of looking at a mess I didn't make.
And in case you're wondering, no he's never done this before. The hotel where he works is still under construction so he's consulted with the concrete guys there for all the little tricks, but we're still not sure exactly how it'll turn out.
I seem to have gone picture happy lately, but here are a few more.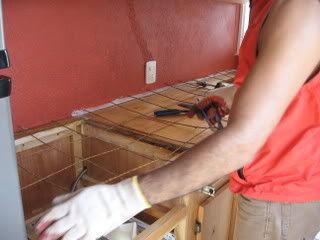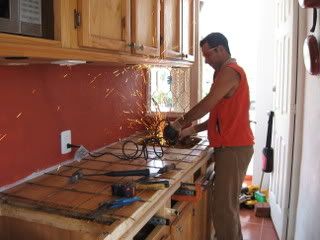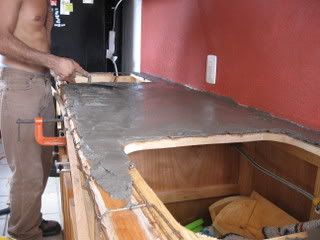 Meanwhile, this is what I was doing.