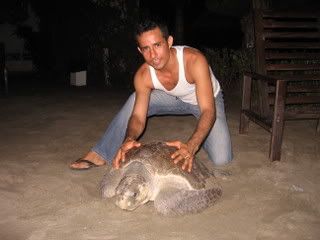 The phone rang last night as we were watching the Olympics. Ibis talked to someone for a minute, hung up, then jumped to his feet.
"The turtles are at the beach!" He ran to the bedroom to get dressed, me close on his heels.
"I'm coming, too!"
Ten minutes later we pulled up to the hotel where he works, sprinted down the 60+ stairs, and ran onto the beach. His co-worker, the one who called, was standing fifty feet from the hotel so we headed towards him. I knew turtles lay eggs in this area and thought the eggs were hatching, so as I ran beneath the palapas (thatch umbrellas), I kept my eyes open for teeny baby turtles. Instead I nearly ran straight into this: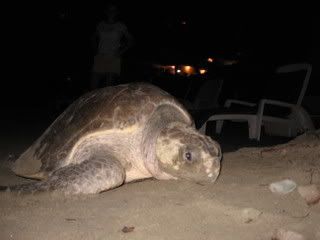 This isn't the first one I saw - that one swam away before we could get a picture. This one was busy digging holes for her eggs. She crawled around the chairs and umbrellas, occasionally getting stuck beneath a beach chair, looking for the perfect spot. She dug two holes that we counted but apparently wasn't happy with them and didn't lay any. We watched her for almost an hour before she headed for the ocean.
There were two other men with us, the night receptionist and a worker from another hotel. In case anyone thinks we got too close or were harming the turtle in any way, we weren't. One of the men was manhandling the poor thing, turning it around so he could get a good picture. We had to practically chase him away to get any pictures without him crowding her. We probably should have said something to him, but this was one of those situations where us speaking up wouldn't change anything. The turtles come to the beach fairly often, and he'll just do what he wants the next time.
That being said, here are more pictures. The lights are downtown Zihua.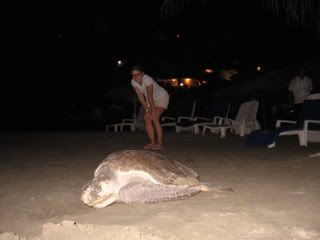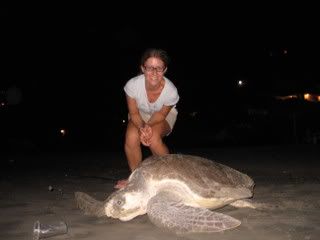 Safe at last.